The British Columbia Real Estate Association (BCREA) released its 2019 Fourth Quarter Housing Forecast today.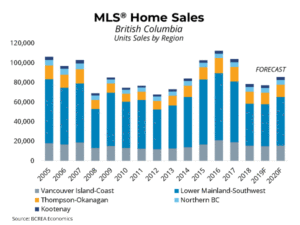 Multiple Listing Service® (MLS®) residential sales in the province are forecast to decline 1.8 percent to about 77,100 units this year, after recording 78,505 residential sales in 2018. MLS® residential sales are forecast to increase 10.9 percent to 85,500 units in 2020, just below the 10-year average for MLS® residential sales of 85,800 units.
"After a slow start to 2019, MLS® home sales in BC have embarked on a sustained upward trend since the spring," said Brendon Ogmundson, BCREA Chief Economist. "The dampening effects of federal mortgage rules mean that rather than a return to the heights of recent years, home sales are simply returning to trend after sustaining a significant shock."
As demand normalizes, the accumulation of resale inventory has reversed course in many markets around BC. We anticipate that this trend will continue in 2020, with sales and listings finding balance. For most markets, this will mean price growth that is in-line with inflation, though for some supply-constrained areas we are forecasting strong price growth. We anticipate that the MLS® average price will decline 2 percent in 2019 before rising modestly by 3.6 percent to $723,000 in 2020.
Copyright BCREA – reprinted with permission