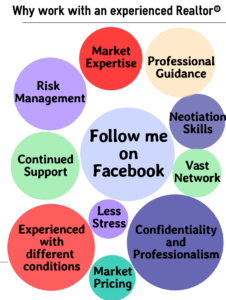 For over 20 years I've been helping my clients buy and sell their homes and Real Estate investments. Using an experienced Realtor® can provide numerous advantages and benefits when buying or selling a property. Here are some top reasons to consider working with an experienced realtor:
Market expertise: Experienced Realtors® have in-depth knowledge of the local real estate market. They can provide valuable insights into property trends, pricing, and market conditions, helping you make informed decisions.
Extensive network: Established Realtors® have a vast network of contacts within the industry, including other agents, lenders, inspectors, and contractors. This network can be valuable in finding potential buyers or sellers and facilitating smooth transactions.
Negotiation skills: Skilled negotiators can be crucial in getting the best deal possible. Experienced Realtors® know how to navigate negotiations, advocate for your interests, and handle complex situations effectively.
Stress reduction: Working with an experienced realtor can significantly reduce the stress and pressure associated with buying or selling a property. They handle various tasks and complexities of the process, such as paperwork, negotiations, and property searches, allowing you to focus on other aspects of your life while having peace of mind that a professional is guiding you through the real estate journey.
Professional guidance: An experienced Realtor® can guide you through the entire real estate process, from identifying your needs and preferences to closing the deal. They can offer advice on property inspections, financing options, and legal aspects.
Experienced in a variety of market conditions: An experienced Realtor® has weathered different market conditions over the years, including seller's markets, buyer's markets, and balanced markets. Their adaptability and understanding of how to navigate these varying conditions can be highly beneficial, as they can offer valuable advice on the best strategies for buying or selling a property in any economic environment.
Market pricing: Determining the correct price for a property is crucial for both buyers and sellers. Experienced Realtors® can assess comparable sales, analyze market data, and help you price your property competitively or negotiate a fair purchase price.
Risk management: Real estate transactions involve legal and financial risks. An experienced Realtor® can help you navigate these potential pitfalls and protect your interests throughout the process.
Confidentiality and professionalism: Realtors® adhere to a strict code of ethics that emphasizes professionalism and confidentiality. Working with an experienced realtor ensures your sensitive information is handled with care and kept private.
Post-closing assistance: A good Realtor's® support doesn't end at closing. They can assist with post-closing matters, such as recommending service providers or addressing any concerns that may arise after the sale.
Overall, partnering with an experienced Realtor® can provide a smoother and more successful real estate experience, whether you are buying or selling a property.